Weeks 2-3. Transmitting and Capturing Language#
The topic of how language is captured and transmitted is a big one – it will take us two lectures to cover it. Usually, in introductions to linguistics speech sounds (in spoken languages) and the phonology of signed languages are covered in one lecture (if the latter is covered at all) and writing systems are more often than not left out altogether. For a course like this – aspects of linguistics tailored for Information Science students – it's important to spend some time on these topics, as these different forms of language transmission are inputs to language technology systems, and being aware of different properties of these linguistic modalities is important in order to understand potential strengths and weaknesses of different types of systems, as well as what kinds of challenges these different systems face depending on the modality they work with.
PARTS
PART I: Sounds and signs

PART II: Writing

PART III: Language modalities and language technology
PART I. Sounds and signs#
TL;DR [slides]
Phonetics as a study of speech sounds. Articulotary and acoustic phonetics.

Some corner cases: whistle languages, drum languages

Not all languages use sounds! Sign languages

Phonology: speech sounds on a more abstract level; constraints on their possible combinations into sequences etc etc.

Speech sounds organized in bigger units: syllables and words; variation in available structures for these units and rules governing this organization (syllable types, stress patterns).
Languages comes in many forms and modalities: it can be spoken, it can be signed, it can be written, even whistled and played on drums. We will go over some ways language is transmitted and captured, just to give you an idea of the landscape of language modalities, and then we will see some ways this knowledge is relevant for language technology.
PART II: Writing#
TL;DR [slides]
The section covers:
Writing and its basic principles

Relation between writing and speech – writing as an instrument for capturing utterances

Types of writing systems
We discussed spoken (and signed!) language, now let's move to another mode of existence of language – language can also be written. Writing is a relatively recent invention, when judged against the time scale of the existence of human species and human language, it has been around for several thousand years. We will reflect a bit on what writing is and isn't and on existing types of writing systems, and then move on to the relevance of the speech vs. writing distinction for language technology. Let's start with a definition of writing.
Important notion
Writing is a system of recording language by means of visible or tactile marks.
Like any decent definition, this one excludes some things from the defined notion. For instance, a painting or a photograph usually cannot be described as 'writing' (it conveys something but this 'something' is not a sentence or a word, even though it might be describable by a sentence or a word); a voice message on WhatsApp is not writing even though it records language, etc.
Let's define some useful terminology.
'Writing system' has two meanings: 1) the writing system of an individual language; 2) an abstract type of writing system. In the first sense, there are as many writing systems as there are written languages, but in the second sense the number is limited to a few types, such as logographic or word writing systems, syllabic writing systems, phonetic writing systems, or variant forms thereof.

Script: the graphic form of the units of a writing system (as in, 'The Croatian and Serbian writing systems are very similar, but they employ different scripts, Roman and Cyrillic, respectively.')

Orthography (=spelling): the standardized variety of a given, language-specific writing system (as in, 'American and British orthography or spelling conventions differ in some details.')

'Alphabet' is used to refer to either 1) the inventory of basic signs of a phonological writing system; or 2) of any writing system in general (as in, 'The Tibetan alphabet consists of 30 letters'.)
The starting point of talking about the relation between speech and writing are the following three important facts:
A lot of languages (in fact, probably the majority of languages of the world) are not written, that is, do not have a canonic way of writing them down.

That there are no languages that have written form but no spoken (or signed) form.

The writing system of a language can change without affecting the language much. Azerbaijani is an example of a language that underwent three changes of writing systems within the course of one century (Arabic script → Latin → Cyrillic → Latin). This didn't have any dramatic effect on the language itself.
What these three facts in combination mean is that written language is secondary to spoken – actually, a type of language technology, an extra advancement on top of natural language to help with its transmission and storing. So, when we say that speech and writing are two different 'modalities' of language, we don't mean that they have equal status. They don't!
Let's look at differences between speech and writing that are listed in one popular book on writing systems and think about them together:
| speech | writing |
| --- | --- |
| continuous | discrete |
| bound to utterance time | timeless |
| contextual | autonomous |
| short-lived | permanent |
| audible | visible |
| produced by voice | produced by hand |
Discussion point
Do all of these differences make sense? Do you agree with these distinctions? What consequences do they have?
Some of these differences do not really stand the test of time: for instance, the short-lived vs. permanent distinction seems less relevant now with all the voice messages and other ways to store speech signal. Some of these differences are fundamental and definitive – for instance, the continuous vs. discrete divide will become relevant when we talk about modalities of language technology.
Writing is a tool to record and transmit utterances. If we think of an utterance as this dual object that's a combination of meaning and sound that expresses this meaning, what are possible strategies for writing it down? Should we focus on the meaning and try to transmit the meaning directly; or should we focus on the sound and look for a way to write down the sound? The second answer might seem most natural to us, but that might be due to the fact that we are used to the writing system designed this way. But it's not the only possible way. For instance, you might have heard about ideographic writing systems – the name suggests writing down ideas or thoughts directly. But can you actually have a system that directly writes down sounds or thoughts?
Let's start with sound, since this is something we discussed a lot recently. A perfect, objective encoding of sound by means of writing is hardly possible or convenient. We saw that sound is very variable, fluid, with individual sounds intertwined with each other during speech. The same word or phrase pronounced by a child vs. a grown-up, a person who's sad vs. who's happy and so on would be physically different in terms of the sound. Moreover, it's impossible even for one and the same person to pronounce something exactly the same way twice. A true sound-oriented writing system would record all this, but it makes no sense – because actually a lot of the aspects of sound don't matter for encoding a message. Maybe a sound-oriented writing system should just encode as many properties of the sound as possible? A writing system like that would basically be transcription, like IPA discussed before. Still, transcription is not particularly convenient for everyday use of the speakers: IPA, for instance, has quite a lot of symbols, and encodes contrasts that, for a particular language, again, don't necessarily matter. Why would speakers of a language learn all the distinctions between different types of vowels and consonants that their language's sound system does not care about? Their writing system should not encode such distinctions. In short, transcription is typically meant to be language-independent and writing systems – even those focussing on individual sounds – encode 'sound' in a language-specific way. It does not provide a true and accurate recording of sound. And it shouldn't!
What about writing down ideas (or thoughts?) rather than sounds? There is an obvious obstacle to that: what are ideas actually? How many are there? There's probably an infinite number of thoughts out there, so we can't really have a writing system with a symbol for each one. We'd need to break ideas down in some way so that we can then write down ideas as a combination of their components. What parts do ideas have though? I have no clue. But utterances expressing ideas certainly have parts – for instance, words! We can design a symbol for each word and then combine them together as needed. But that won't be exactly encoding ideas in writing – that would be encoding a sequence of words that together express an idea. A more accurate term is logographic writing systems (= writing down words) rather than ideographic. For instance, Chinese writing is – to a large extent – logographic, as were ancient Egyptian hieroglyphs. How does one make a logographic writing system? Assign each word a symbol, and that's it!
| word | symbol |
| --- | --- |
| bee | |
| leaf | |
| … | … |
The above follows the same principle as Chinese characters 山 for 'mountain' and 木 for 'tree'.
A tiny question along the way
Texts written in English (or in Dutch, or in any other European language, for that matter), contain quite some logograms – or maybe actually ideograms! Can you figure out what they are?
In practice, a pure logographic system is hardly possible. A language has – very approximately – around 400k words. It's unrealistic to have a separate symbol for each of them, and writing systems actually never do. At some stage of development logographic writing systems inevitably extend the use of existing symbols based on the sounds of the words they encode. This gives rise to the rebus principle that the writing system starts to support. Let's say I needed to write down the word belief but didn't have a symbol for it at my disposal – I might then use the symbol for bee for its sound regardless of the meaning; and I might do the same for the symbol for leaf:
| word | symbol |
| --- | --- |
| belief | |
This trick – or some variation of it – is used in many logographic systems we know. In the Chinese writing system, when a character can be used to encode more than one word that sound the same, often an element has to be added to the character that disambiguates the use. For example, the word mù can mean 'tree' or 'to wash oneself'. As we saw above, the character for tree is 木; the character for 'to wash oneself' is 沐, which has the same main element as 'tree', but also contains the element 氵 'water', that indicates that this particular mù has to do with water. A pretty complicated system!
Writing systems that encode the smallest segments possible – individual sounds – as opposed to systems encoding words (modulo complications discussed above) are often called phonetic or phonological writing systems. They are familiar to us, since this is the one we are using now! Roman (a.k.a. Latin) script that is used in English – and in Dutch – has Egyptian hieroglyphs as a far ancestor, but has evolved to encode abstract speech sounds. A lot of alphabets used today have a noticeable overlap in symbols, due to their common origin (but some alphabets are quite different, see, for instance, Georgian and Armenian):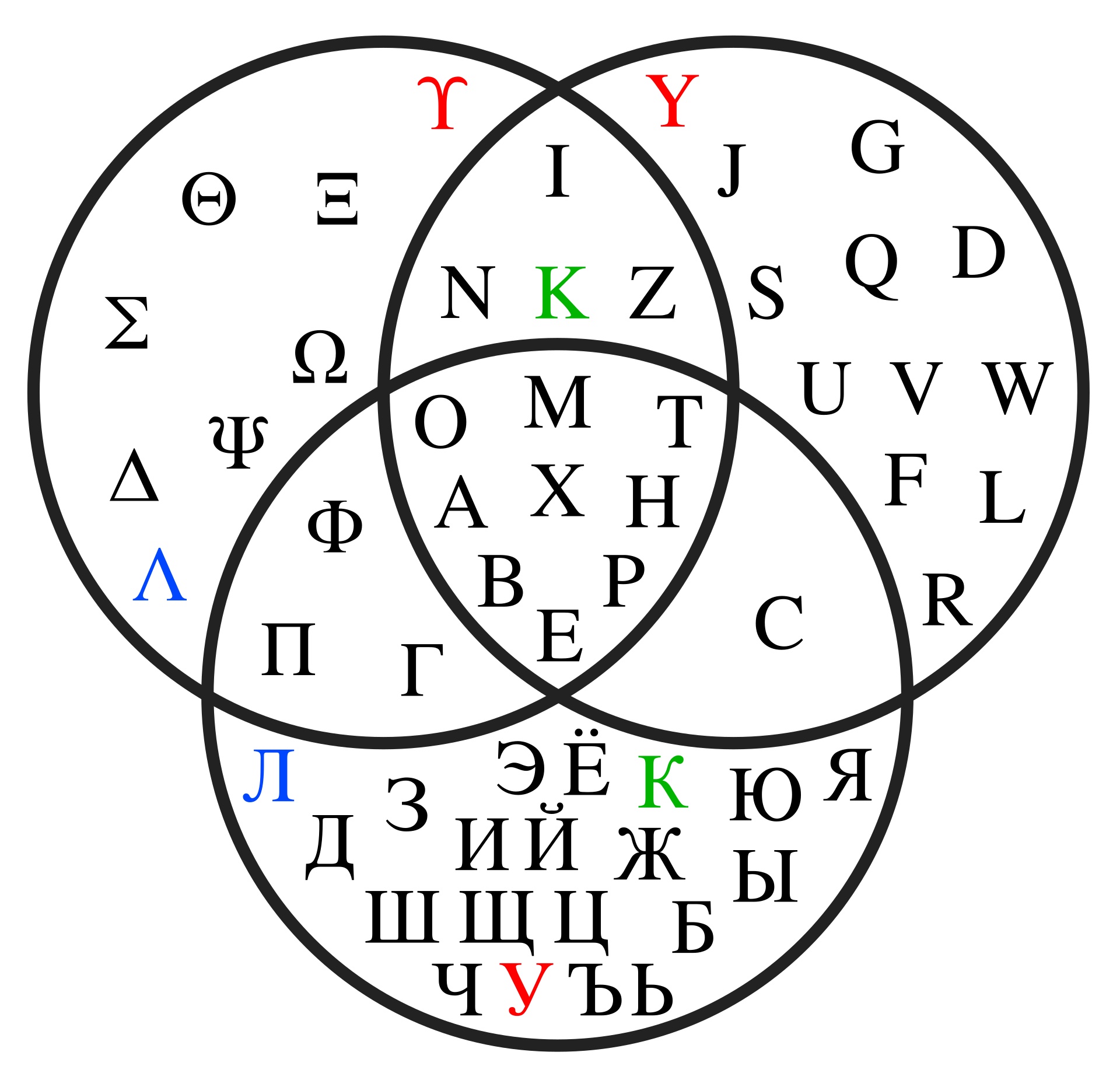 If you remember the discussion early on in last week's lecture about how untrustworthy writing can be when it comes to sound-writing correspondences (the ghoti example!), you might be confused now. Well, you have the right to be confused: sound-based writing systems usually have a lot of non-phonetic stuff going on that complicates the mapping, mostly for historic reasons. It is what it is!
The phonetic and logographic systems don't exhaust all the options: between the level of individual sounds and the level of words, there is another level of sound units – syllables. A lot of writing systems build on this unit. Such systems are called syllabaries. Japanese, for instance, in addition to Chinese characters, has two syllabaries: Hiragana (for native Japanese words) and Katakana (for loanwords).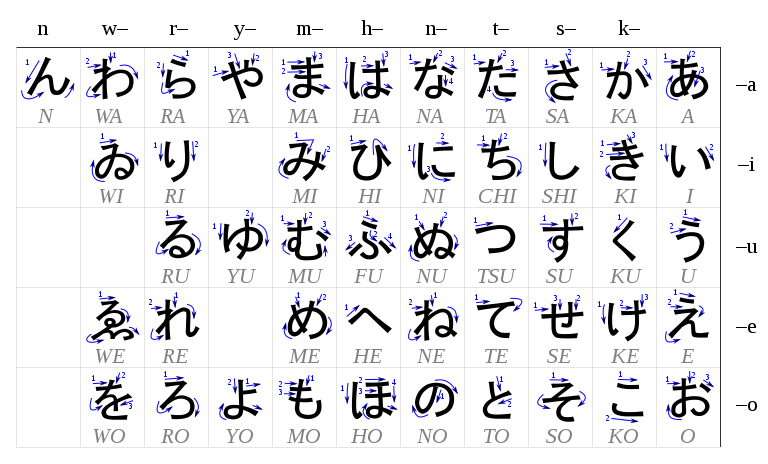 One famous writing system that is somehow between an alphabet and a syllabary is Hangul, a Korean writing system developed in the 15th century. It is remarkably transparent, as the symbols for syllables are put together from individual components corresponding to consonants and vowels in a small number of predictable ways.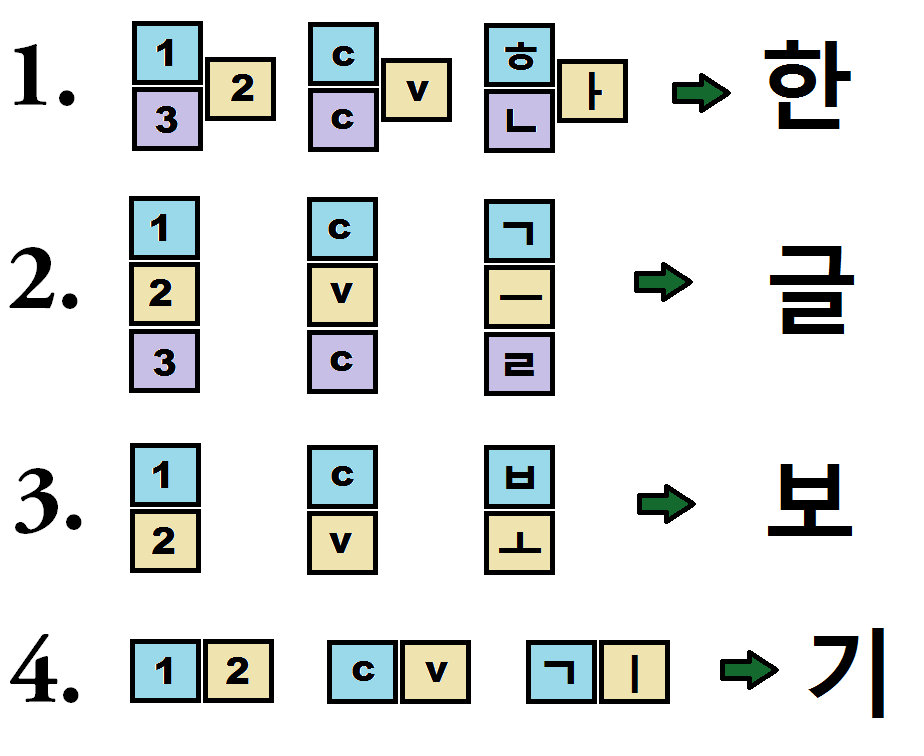 Another notable writing system is abjad – a system where only consonants are represented. This system is used in Arabic and Hebrew, for the reasons that we will discuss in the morphology lecture! It wouldn't be as convenient for English, but to some extent it would've work (let's say, to the extent you can read and understand the phrase th qck brwn fx jmps vr th lz dg).
The last system I want to mention is somewhat similar to abjad and is called abugida. In this system, basic characters denote consonants followed by a particular vowel, and additional signs can denote other vowels. An example is Tibetan.
Arabic (abjad):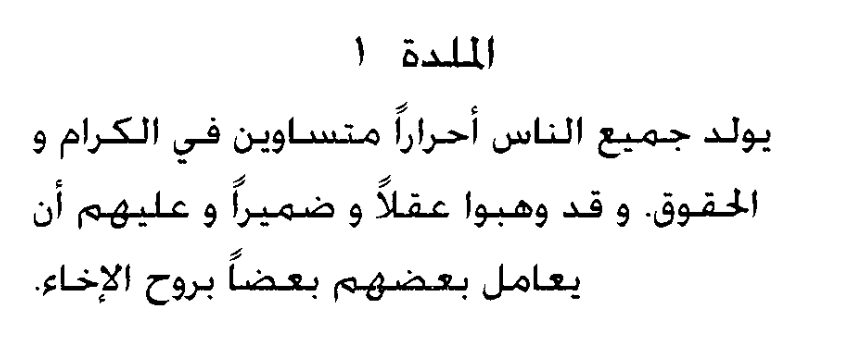 Hebrew (abjad):

Tibetan (abugida):

There is much more to writing systems than what I was able to tell you, but before we leave this chapter, I wanted to show you this super-helpful chart that comes from Neography, a project which focusses on creation of writing systems. You can find more examples and discussions there!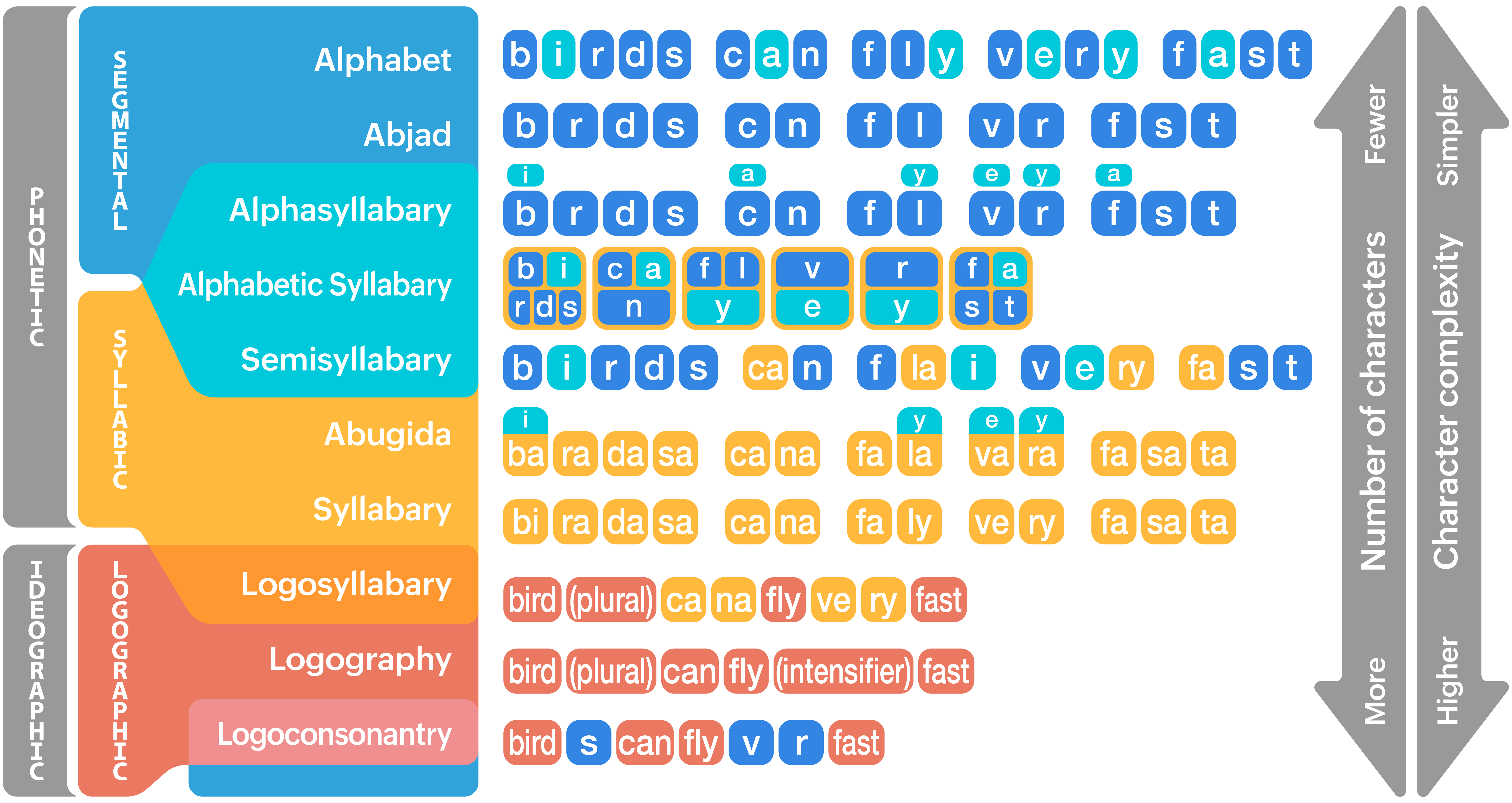 Finally, a parameter that is orthogonal to the size of the unit that that writing system is based on (word, syllable, individual sound) is the direction of writing. Most European languages write from left to right and top-to-bottom. But this is not the only option, and this is good to keep in mind!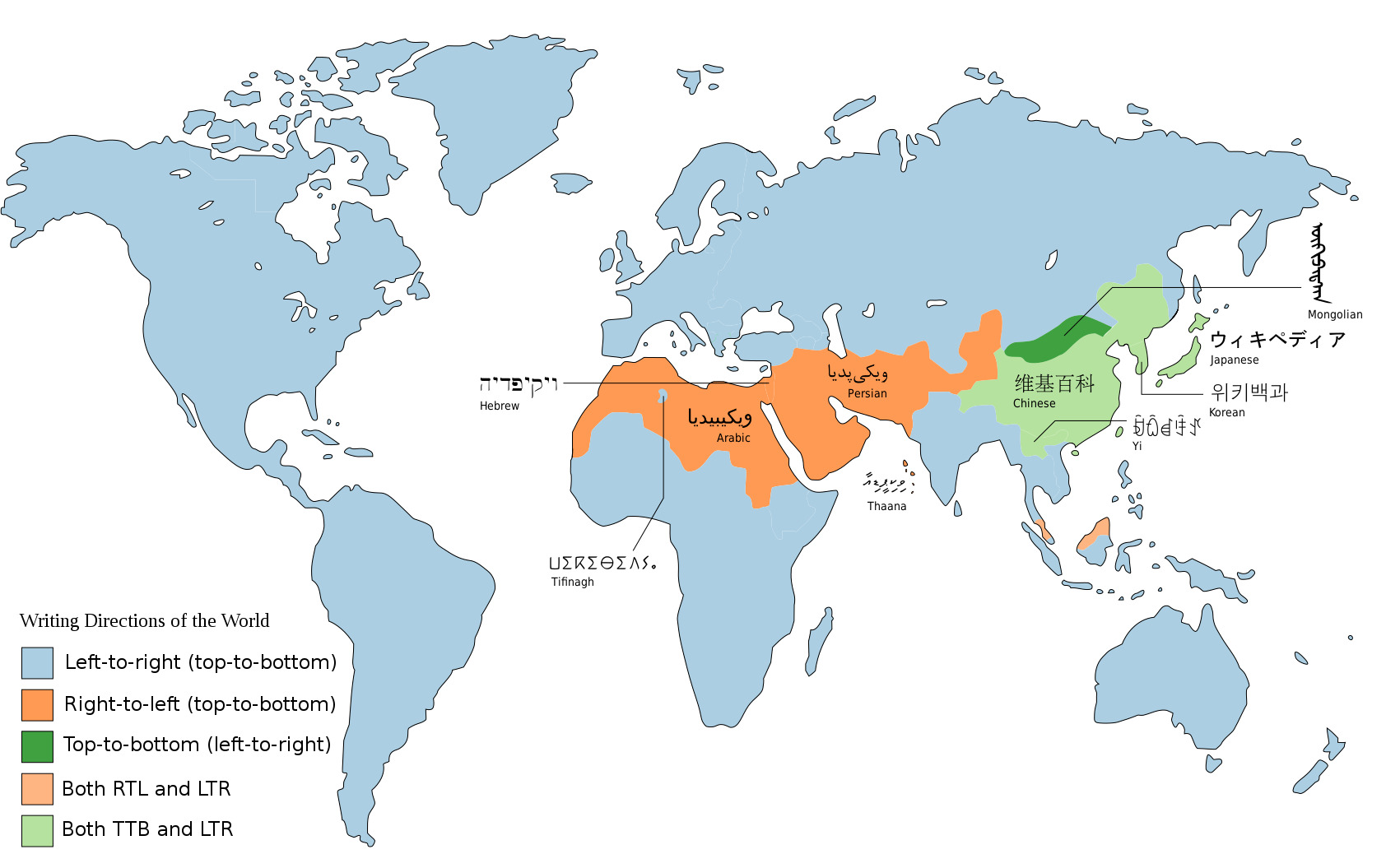 Here is the main take-away from this section: In practice, all writing systems that are meant to convey the whole variety of possible messages in a language rely on sound in some way. But still the main working units of different writing systems are different:
Logographic writing systems focus on words as their unit (Chinese, Japanese)

Syllabaries encode syllables (Japanese, Korean..)

Alphabets encode individual sounds (English, Dutch, Georgian, Armenian..)

There are systems that are somewhere in between!
This should be enough to keep you aware of what you are dealing with if you need to use or design a text-based system dealing with various languages. If you want to learn more about writing, its variants and history, you might find some the resources below useful.
Resources on writing systems
The World's Writing Systems – a project organizing old and existing writing systems along different parameters; a good FAQ!

Omniglot – a comprehensive online encyclopedia of writing systems and languages

Neography – a very nice project on creating new writing systems, which also summarizes existing ones well!
This is all I plan to communicate to you about the ways of transmitting and capturing language (a.k.a. language modalities). During the last two weeks, we talked about speech sounds and signs; and we talked about writing and how it relates to sound and meaning. We now move on to the relation between the things we discussed so far – and language technology.
PART III: Speech, text and language technology#
TL;DR
Speech and text-based systems have their own typical associated tasks

The field of language technology is text-dominated

But it doesn't have to be! And maybe shouldn't be

There is a tendency to formulate deeper tasks in terms of sound directly
Systems that linguistically interact with users differ in the type of input that they take (and the output they give). The main two types of systems are:
the ones that analyse and/or output speech;

the ones that deal with text.
Natural language processing and computational linguistics are to a large extent text-dominated fields. If we look at the proportion of speech- and sound-related papers in the ACL Anthology (a comprehensive database of NLP papers covering all the main conferences, journals and workshops), we will see that it never goes above 20%, and apart from the spike in 1989 (inclusion of the Speech and Natural Language Workshop in the Anthology), stays mostly below 10%: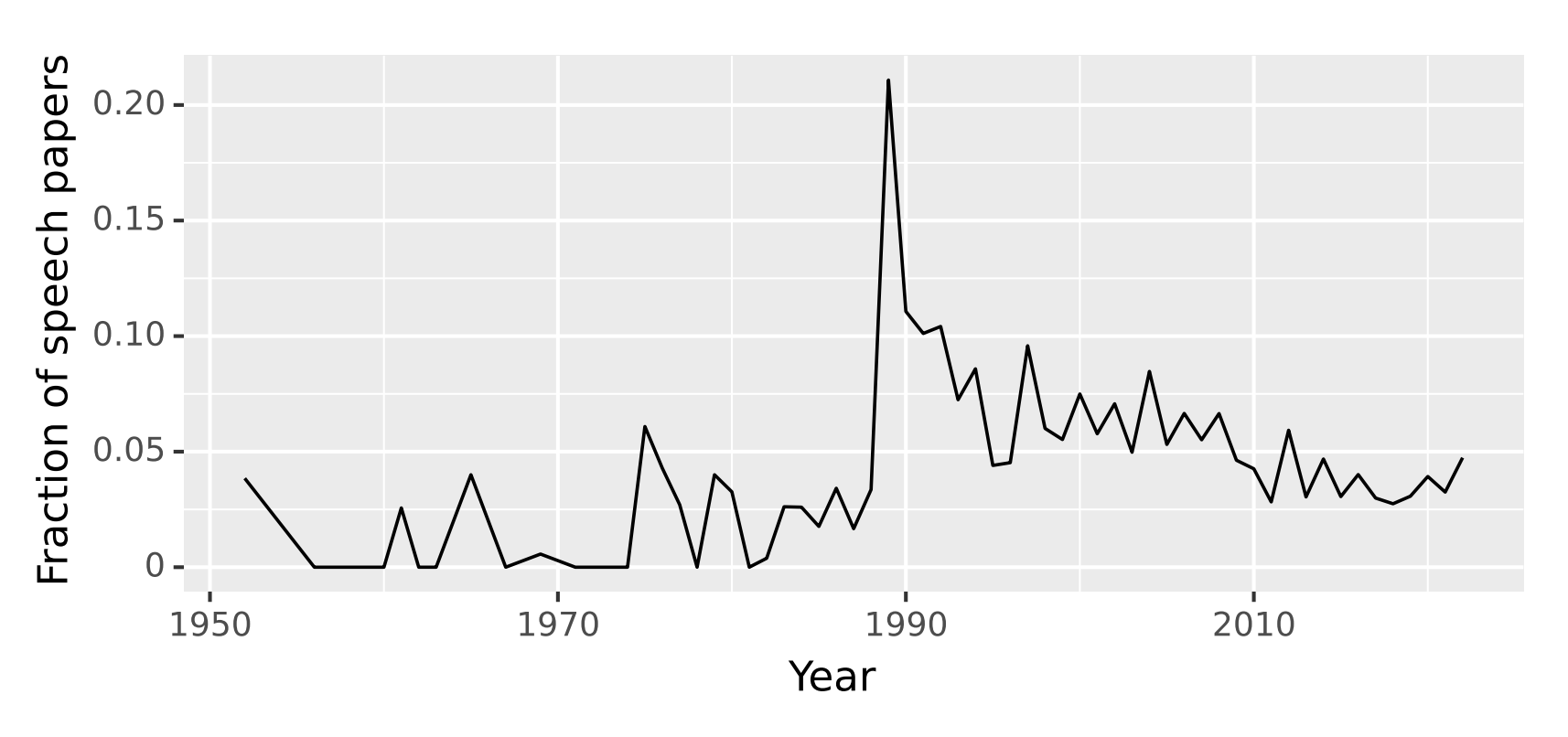 Classic tasks for speech technology are Automatic Speech Recognition (ASR) – given the sound input, the model outputs its written form – and Text-to-Speech (TTS) that maps written text to sound. You can try some of these models on Huggingface: see models under ASR and TTS tasks. Recent ASR models, for instance, are very impressive! Whisper from OpenAI is a recent model that is doing a pretty amazing job mapping speech to text for 75 languages – you can try it yourself on its Huggingface page or a Huggingface space that uses this model.
As for text-based models and systems, we've seen some of them before, in the introduction lecture. The range of tasks that are typically defined and implemented over text is broad:
text summarization,

question answering,

machine translation

and many many others.
In principle, there is nothing specifically textual about these tasks – they could as well be defined over speech: you may want to summarize a spoken interaction or monologue, answer a spoken question about such interactions/monologues etc. In practice, a lot of systems with speech input and/or output targeting complex tasks like these are in fact multi-component pipelines: first, an ASR system maps spoken input to its written form, then a text-based model is called (a.k.a. cascaded systems); similarly for systems with speech output – often, it's actually text output with a layer of TTS. This is, for example, the way virtual assistants such as Siri and Alexa work – at least, for now.

There are upsides and downsides to this approach. One benefit is clear: given that NLP has for decades been a predominantly text-oriented field, and all this time text-based tasks have been the focus of a large research community, now it just works pretty well! So it's a natural solution to reduce spoken tasks to text-based tasks by sticking ASR/TTS modules on either side of the system.
But why has written text been the primary language modality for NLP?
One reason is large quantities of available text data: Wikipedia, social networks and all interactions there, digitized books and so on. More data means better systems trained on these data.

Another reason might be cultural: we are used to seeing written texts as more valuable, more important and more worthy of analysis.

Finally, written language is simply easier for computational modelling. As we discussed earlier, spoken language is messy, intrinsically non-segmented and variable. Even if you try very hard, there is no way you can pronounce one and the same word in exactly the same way twice. The pronunciation and the resulting sound varies even more when a word or a phrase is pronounced by speakers of different ages or dialects; depending on its position in the message and so on and so forth. We as listeners factor out a lot of this variation without any problem; and all the various pronunciations of the same linguistic elements correspond in writing to one and the same, discrete sequence of letters. This sequence is easier to deal with, since a lot of complexity of spoken language does not show up in this representation.
There are also problems with treating written text as the default input/output of language technology. The main issue is actually the same as the last point we discussed above! In writing, a lot of information is lost: the intonation, the general tone of voice, a lot of things about speaker identity (age, gender etc.) that can contribute to the message that the utterance conveys. This loss of information can be a good thing – in a sense that it makes the analysis of written language a comparatively simpler task – but it at the same time makes the task harder when it comes to certain other phenomena that rely on the aspects of the spoken utterance that are typically not written down. Think about sarcasm, for instance. It's often marked in speech by a complex combination of intonation, sound duration and more. When our interlocutor is angry or sad, often it's not the words themselves that indicate that, but we can still pick it up from how the person sounds. For many tasks in natural language processing, it's important to identify these aspects of the interaction, but the written form does not convey them directly, making the task hard.
A tiny question along the way
Think about the properties of the spoken version of the phrase 'Wow, thanks for your help!' that would make it sound sarcastic or sincere.
Here is another thought about the relation between speech and writing in language technology. When we talked about writing, we established that writing is secondary to speech – historically and acquisitionally. We learn to write and read after we learn to speak, and quite a noticeable percentage of people across the world do not learn how to write or read even in languages that have written form. Writing is just a convention to convey the spoken message. A language can have one or more writing systems, can switch from one writing system to another many times in the course of its history without much effect on the actual spoken form. Whenever a message is written, there is always a corresponding spoken message that it represents (you can pronounce it – for instance, reading out loud). Now think about a text-based NLP system. Text is the only thing they know about language. There's never a step to recover a spoken version of what's written – so, it's kind of the opposite of what people do, I guess! If a language has two written forms, a model exposed to texts in both will have no way to know they actually correspond to the same language. Will the model somehow learn an alignment between two written forms eventually just looking at the data? Who knows! I don't know work asking this research question. It'd be interesting to find out.
Oversimplification alert!
Ok, the statement 'Whenever a message is written, there is always a corresponding spoken message that it represents' is a simplification. Given how much knowledge we acquire from reading rather from conversation these days, there are some things that we learn to recognize as written words but never actually encounter in their spoken form and don't even know how to pronounce. One class of those things are names of fiction characters: if you have read 'War and Peace', I bet you've read but never knew how to pronounce the name 'Andrei Nikolayevich Bolkonsky'. There are other words that are often known from text but are much more rarely pronounced (think 'mischievous', 'hyperbole', 'abugida' and such).
The solution is to embrace the goal of analyzing speech for complex tasks directly! Yes, it is potentially more difficult because of all the variability, but the benefits of getting the full picture of what was said – and how it was said – are potentially worth it. The field has been turning in this direction: release of newest speech models such as HuBERT signals and drives a turn to deep analysis of speech signal. Some of the recent speech models that can be used for ASR and speech translation actually do the latter directly from the speech signal, without the intermediate step of written representation. I mentioned Whisper above as an ASR model, but it does speech translation as well (to English only), and it does it directly. Another important recent release is SeamlessM4T from Meta. It's a text and speech model that does ASR, TTS and both text and speech translation – directly (at least on the input side). Speech translation works from 100 to 30 languages! You can try it out either on their demo page or in a Huggingface space that runs the model.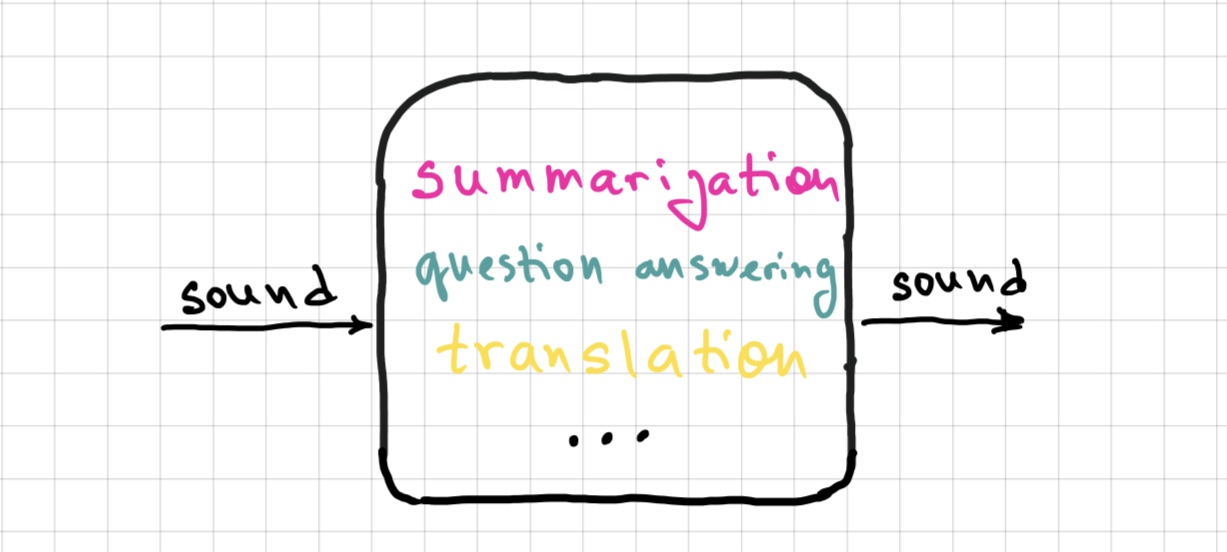 So, ASR/TTS is not all there is to speech technology! In addition to sequence-to-sequence tasks I discussed above, I want to mention audio classificaion. Some of the popular tasks are language identification, command identification (very useful for virtual assistants), speaker identification and emotion identification. Try out this emotion recognition model! These tasks have traditionally been audio-centered – and it's no coincidence that a lot of them focus on properties of speech that do not get reflected in written form.
Finally, a note on diversity in technology when it comes to linguistic modalities.
ASR and other speech technology shows bias that disfavours minorities whose dialects show phonetic traits less represented in speech datasets the models are trained on. If your pronunciation is not 'typical' in some sense relevant for speech dataset construction – you will have a harder time being understood by a computer. Check out, for example, a recent paper about bias in ASR

Text models show a lot of bias as well, some of it complex – but some of it can be seen on the level of symbols used to represent text. This word cloud, for instance, is meant to visualize hey in 52 languages. The tool fails to render many of the languages (including Arabic, Hindi, and Korean) in its default font.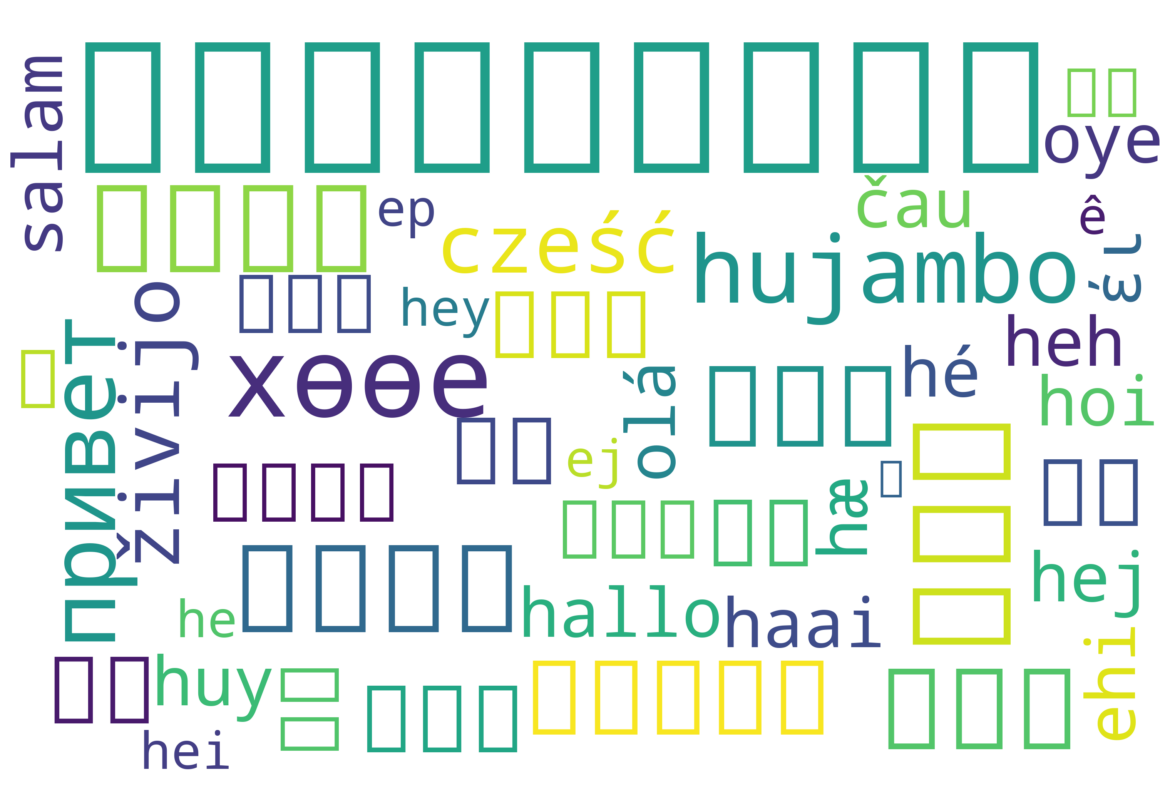 I guess that's all I wanted to say about sounds, signs and writing! Next week, we are moving on to grammatical organization of language.
Homework 3
Task 1
Katakana is a Japanese syllabary that is mainly used for writing foreign words. This week, we talked about different writing principles and systems, and mentioned – briefly – how properties of a language might make some writing systems more suitable for this language than others. This assignment is meant to give you a bit of a first-hand experience with a writing system that is very different from the one we are used to, designed for a language that is also very different from the languages of the European type.
So, here is the task: given the information about katakana on Wikipedia, try to write down your full name in katakana. Submit your result (if you have trouble rendering the symbols on your computer, feel free to take a picture of the result and submit that) and describe the difficulties you faced while trying to do so, if you had any.
Task 2
A lot of even very sophisticated language technology is pretty bad when it comes to tasks that require working at the level of individual letters/characters. We will discuss reasons for this next week. For now, I want you to make note of this fact. Ask ChatGPT to write your name in katakana! Was the result the same as when you tried to do it? Does the result make sense to you or were there any obvious mistakes? Submit the link to the chat or the screenshot and discuss what you got.
Task 3
We talked about how writing is historically and acquisitionally secondary to spoken language: there can be many different writing systems for one and the same language, and the way you write things down does not affect the grammar or the meaning of the message. It might seem obvious to us, but it is not obvious at all anymore if we think about this from a perspective of text-based language technology. For instance, if we think about translation of one and the same text in the same language written using two different writing systems to some other language – we expect the translation to remain the same. But does it really remain the same, in practice? Let's check.
Take a paragraph in English or Dutch. It can be anything – but not something very well-known, so that the chances that the text is in training data of GPT is lower. Don't make it too short! You can take a syllabus of one of the courses you are now taking. Google Translate this paragraph to Serbian. Google Translate gives you two versions in the output: one written in Cyrillic, one written in Latin script. That's exactly what we need, since Serbian officially uses two alphabets. Go to ChatGPT and ask it to translate these two messages to Dutch (or English; but I prefer Dutch). Do it in two separate chat sessions, so that the model doesn't know the context of your previous request when fulfilling the other one. You will get two translations. Compare them: are they exactly the same? If not, do they only differ in small details that do not change the meaning, or are there deeper differences? Which version do you like better: the one that translated the Cyrillic or the Latin version of the Serbian text? Submit links to chats or screenshots and your analysis.